Northbound Updates
Southbound Updates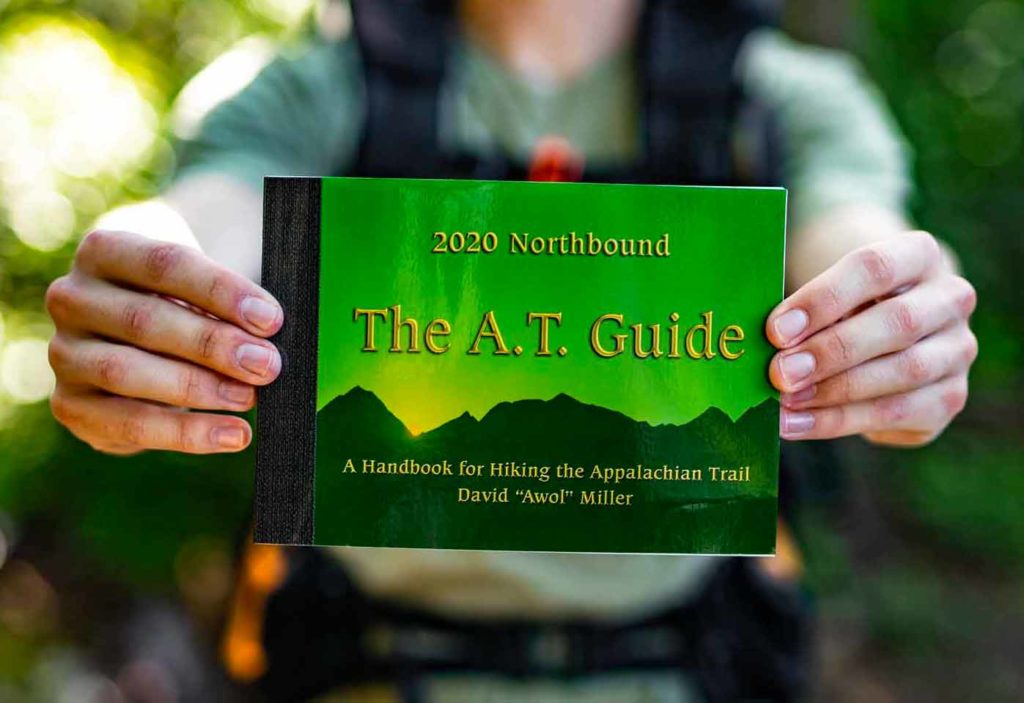 2020 A.T. Guides Preselling Now! Save 15% by ordering early
 Countdown to A.T. Guide Shipments
 Northbound Ship Date: 01/17/2020 
Countdown to Ship Date: January 18, 2021
  Southbound Ship Date: 02/14/2020
Southbound Ship Date: 02/17/2020

232 Pages
Available as bound book, loose leaf pages, or in digital printable PDF form.
PUR bound* with a laminated cover to withstand the riggers of on trail use
Invaluable safety and best practices information
Printed versions ship with a plastic seal top bag (additional bags also available for purchase)
PDF pages may be printed out on home printer

Fully Interactive PDF
More versatile than any mobile app, the PDF may be used on desktop computers, tablets, or mobile devices.
Live links for websites
Tap to dial phone numbers
Clickable GPS coordinates to parking lots
Hyperlinks from trail to town and back
Pages turned for optimal viewing on electronic devices

Important Information
Packed full of information presented in the most concise manner possible.
47 Custom icons for identification of services at a glance
Critical information from state parks and trail maintaining clubs
Invaluable safety and best practices information
Flora and Fauna information embedded directly into trail data where you may be encountering it.
2623 Mile to trail landmarks
with point by point cumulative mileage (both NoBo & SoBo) including…
1139 Water sources (potentially unreliable sources noted)
347 Identified campsites or tent-sites on, or convenient to, the A.T.
259 Shelters include distances to the last three and next three shelters & whether or not there is tent-site, privy, and bear cable (or bear box) access.

1068 Service listings
listed in order of distance from the trail including…
444 URLs for service listings
424 Lodging services (hostel, hotel/motels, and B&Bs)
319 Shuttle services
293 Resupply points (grocers, convenience stores, and outfitters)
297 Parking areas with GPS coordinates
69 Post offices (off map) with hours of operation & phone numbers

94 Maps
(for towns, areas, and difficult trail intersections) including…
Countless additional services not included in full text listings
97 Post offices with hours of operation & phone numbers
Major road and trail crossings
GPS Coordinates & location based magnetic declination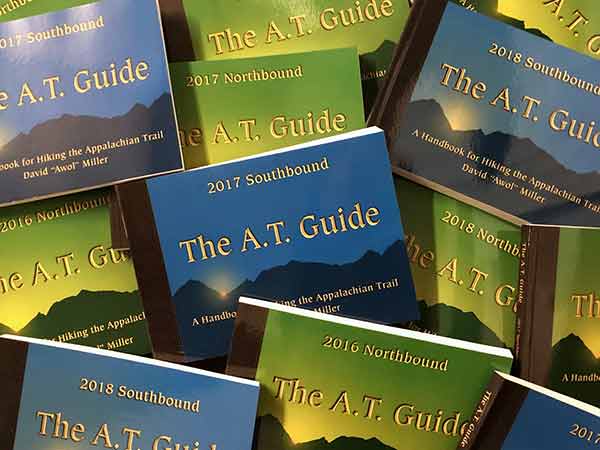 Looking for a
2019 or earlier Guide?
We release an new guidebook each and every year to ensure you have the most up to date guidebook possible. But maybe you hiked the trail in 2016, 2017, 2018, or 2019 and would like a momento of your hike. Or, perhaps you would like to do some light planning while waiting on your pre-ordered guidebook.
Shop Legacy Editions
Latest News
Read about the latest at The A.T. Guide.com.
Our blog