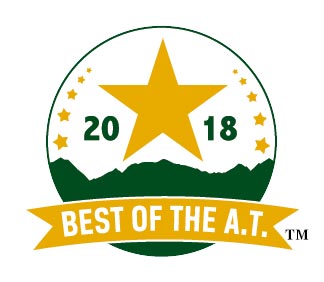 Best Of The A.T. 2018, By Hikers for Hikers
Over $2600 in prizes will be given away!
Here's your chance to give something back to the hiking community. We're looking for the best of the best and you're going to help us find them. Your positive comments about exceptional facilities, services and people on the Appalachian Trail will help those who follow in your footsteps. Your participation will get you a chance to win one of over 50 tokens of our appreciation in the October 2018 drawing.
1 – Grand Prize $250 AntiGravityGear gift certificate
5 – $100 AntiGravityGear gift certificates
10 – 2019 AWOL Guides, Pocket Profile Maps and PDF download bundles – $105 Value Each
15 – A.T. Guide Tee Shirts – $20 Value Each
25 – 2019 AWOL Guides (or 2018 Guides for nostalgia sake if preferred) – $15.95 Value Each
…. and more prizes everyday from our sponsors below!
OK! Let's Find the Best of the Appalachian Trail!
NOMINATE A SERVICE FOR BEST OF THE A.T
---
Best of The A.T. Sponsors
---