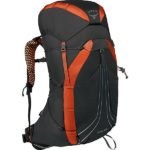 Osprey Exos 58.
Some great features of this pack are its hip-belt pockets, to keep stuff like my camera handy, and the air-flow back panel. I don't take the detachable top pouch.
36.0 oz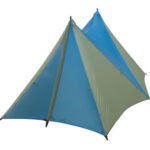 Black Diamond Beta Light Tarp.
I've customized mine by sewing a six-inch strip of mosquito netting to the bottom edge. I also carry a piece of tyvek as a ground cloth. Two persons could sleep in here. I like the spaciousness so I can cook inside while it's raining and can have all my gear inside with me during the night. Sets up with trekking poles. The weight includes bug netting and tyvek but not the poles.
30.2 oz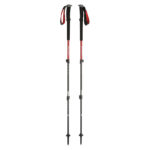 Trekking Poles.
I have a mix of brands, and remove the wrist straps that are shown here. I use rubber tips to eliminate the noise, an also find that the rubber grips better on rock. I like having at least one with a camera mount screw on top. I'm sold on using them 'cause they've saved me from many falls, serve as tarp poles, and for some measure of defense. Debatable whether these should be included in "base weight."
18.0 oz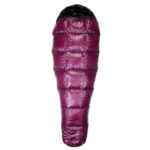 Western Mountaineering 35 deg down bag.
I also have a lighter, home-made bag for warm weather that is not insulated on the bottom and weighs less than a pound.
21.8 oz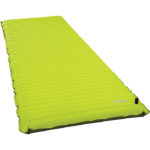 Therm-a-rest Neoair, full length.
I'll admit I don't sleep well on my trips. I wake and turn frequently, and any part of my body that my weight rests upon will get sore after a while. Air mattresses are the most comfy for the weight, and most compact to pack as well. BTW, they are best when they are NOT fully inflated, so play with the air pressure to find what's best.
19.0 oz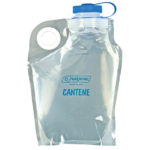 Nalgene 2L water bag.
I keep mine strapped outside of my pack, so I can refill without unpacking. For that reason, I like a bag that has a sturdy place to attach a strap or carabiner. The handle helps to keep its shape. A great new addition is a magnetized spot of metal on the bite valve with a matching piece to go on your shoulder strap. This helps keep it handy and out of the dirt when you set your pack down. I prefer also to have the same type of threads as big-mouth bottles so a filter could be directly attached. There are other brands that also offer all of these features.
16.0 oz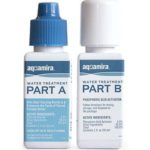 Aquamira truly adds no noticable taste to water.
A couple of downsides: you have to get water free of dirt, and you can't drink your water for at least 20 minutes. Debris-free water is usually achievable, or take a coffee filter for the worst situations. Or switch to a filter for the trouble spots on the AT (MD-MA). The wait time can be managed by planning–have it sit while you eat lunch or set up camp. CAREFUL: I've had one come unscrewed and had another hiker tell me the same; tighten snugly.
2.7 oz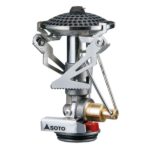 Soto Micro Regulator Stove.
Weight listed is for stove and canister. The stove itself is incredibly light 2.6 ounces. Striker is built-in, so you can use the stove as a fire-starter. Though it's probably a good idea to take a lighter anyway as an emergency back-up. Soto also makes a great device (Soto Pocket Torch) that turns an ordinary lighter into a torch.
10.0 oz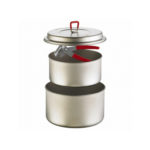 MSR Titanium pots.
I don't take the lid. Also, I don't take a cup, and use the smaller pot for drinking.
9.0 oz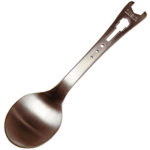 MSR Titanium spoon.
Just about un-bendable. I've never had the need for any other eating utensil.
0.8 oz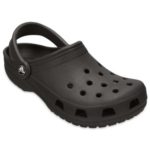 Crocs are de rigueur camp shoes on the AT.
They are okay…I'm on the lookout for something better. Weight shown includes the elastic strap and hook that I use to bind them to the outside of my pack.
12.5 oz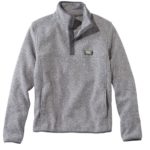 Fleece.
I don't have any brand loyalty, just about any mid-weight fleece will do. Good for warmth, of course, but also my primary pillow. In colder temps I'll also carry a cap and gloves. Weight listed is just the fleece.
20.0 oz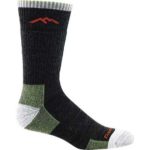 Darn Tough socks and Injinji toe-sock liners.
I carry an extra pair of each sock and liner and switch often, even in mid-day if the first pair is wet from morning dew. I'll hang the wet pair from pack straps and let them dry. I get blisters easily, especially where my crooked toes bump into each other. I think the toe liners help with that. Darn Tough socks and Bridgedale are two brands that keep their shape after days of damp wear. When considering socks for the trail, try them at home. Wear them for a few days without washing, preferrably getting them wet. If they sag or the heel stretches up the back of your foot, they aren't trail worthy.
5.0 oz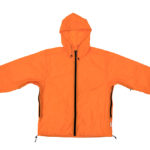 Antigravity rain jacket
Simple, well-constructed lightweight rain jacket.
5.0 oz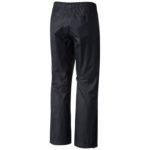 Mountain Hardwear Rain Pants.
In the warmest days, I'll skip these. I usually take them 'cause they are also my back-up pants. The zippered leg is the essential feature, which allows you to put them on / take them off without taking off your shoes.
9.8 oz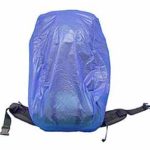 Sil-Nylon pack cover.
I have one from Campmor that I've modified in two ways. I cut it down to fit the pack more snugly, and I sewed on straps that feed into the two unused cinches near the top front of my pack.
4.3 oz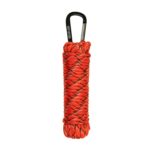 Rope and carabiners for hanging food.
This rope has a reflective band embedded, which helps to find it in the dark with a headlamp. I have an elastic cord that hangs my Crocs to my pack, which is good for attaching a rock to the carabiner for extra throw-over-tree-branch weight.
1.8 oz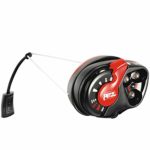 Petzl E+Lite Headlamp.
Has low and high beam for white or red light, and either can be used in "blink" mode. The brightest setting (26 lumens up to 29 m) allows you to move around easily in the dark. Lamp pivots so the beam can be positioned as needed. Resists extreme temperatures: -30 °C to + 60 °C AND Waterproof to -1 m for 30 minutes.
0.9 oz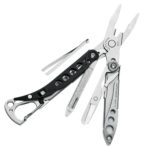 Leatherman Style CS.
I used the scissors more than anything else, and ones on this tool are much more functional than the ones on "Swiss army" style knives. File also useful for callus taming.
1.4 oz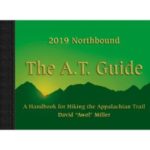 About 8 sheets in a plastic bag
in my pocket with a pen, and another dozen pages (for days ahead) in a back-up bag packed away.
2.0 oz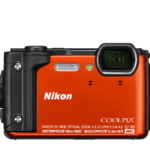 Nikon Coolpix AW100 16 MP CMOS Waterproof Digital Camera with GPS.
Waterproof and shock resistant camera that will geotag locations where you've taken pictures. The GPS feature is great for remembering where your photo was taken, but there are a few drawbacks: the GPS uses more battery (it can be turned off), it takes some time (a few seconds to more than a minute) after startup to connect to satelittes, and you'll need to familiarize yourself with mapping software on your computer to actually see where the photo was taken (Nikon provides some software or you can use Picasa, Google Earth, etc…)
6.6 oz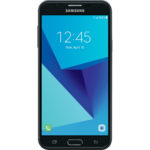 Phone booths and even phones in hotels are quickly disappearing.
Also serves as a back-up camera or flashlight. Coverage and battery life leave much to be desired, but are sure to improve. I miss my Pocketmail device, which was much more usable for journaling. I do much less writing on the phone 'cause of the battery deficiency and cumbersome virtual keypad. Weight includes charger.
6.3 oz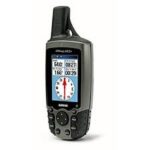 Garmin 60csx.
Clearly not needed on the AT, but I take it for work on The A.T. Guide. I don't use the clunky belt clip; instead have a carabiner and sort piece of string tied to the nut on the back. I use Lithium Ion batteries (in spite of Garmin recommendation that they not be used) that are lighter and last much longer. BTW: I used to clip a carabiner directly through the rubber hole near the antenna and it eventually tore through the rubber. Link to right is for the newest equivalent model (62CSX); the 60 is discontinued.
6.9 oz
Misc. Extras
Toiletries, medicine, etc: I usually have toilet paper and a wide aluminum tent stake for hole digging, bandaging tape, moefoam (like moleskin but thicker), a small tube of superglue (good for gear repair and for skin cuts), band-aids, ibuprofen, extra batteries, and a gallon zip-lock for trash.
6.5 oz